Press Blanking Line / Magnetic Stacking System
SL
Blanking Line of Sheet Metal, Steel Coil Blanking Line, Coil Processing Blanking Line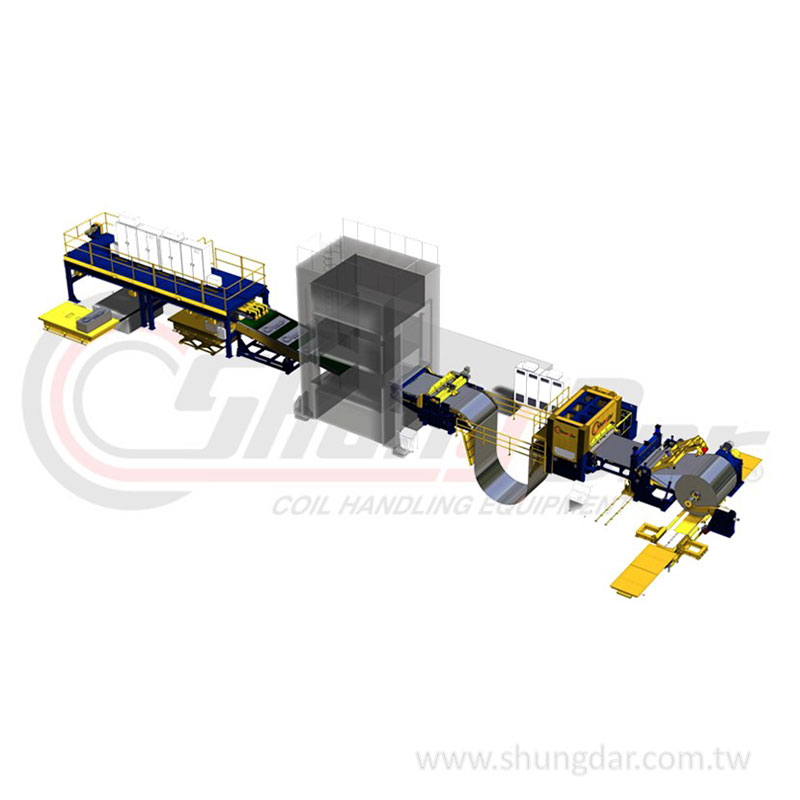 SHUNGDAR develop the magnetic stacking system to stack various automotive blanks precisely to the latest industry demands – includes Trapezoidal Sheet Stacking and Shaped Sheet Stacking, such as Engine Hood, Car trunk cover, Car body shell and Car cross rail.
The automatic blanking line is used to clean, and level the steel coils. It is equipped with a press and a die to stamp out the initial sheet metal shape, or to cut a rectangle, rectangle, triangle, trapezoid, etc. The shape of the sheet blank is transferred to the workstation at a high speed through the magnetic suction stacking system to be neatly stacked to facilitate the subsequent extrusion molding production line.

The operator selects or inputs corresponding information corresponding to the produced specifications into the control system, such as mold information, raw material information, etc., and the processing results automatically control each executing agency to complete the corresponding adjustment.
Features
Punch Blanking Line
1. High precision leveling mechanism.
2. Servo drive feeder, high feed accuracy.
3. Reducing material wasting.
4. Improve operator safety.
5. The maximum width can reach 2000mm, the thickness range is 0.3 ~ 6.0mm, and the maximum material weight is 35 tons. It can be customized according to the actual needs of customers.

Magnetic Stacking System
1. Significantly increase production efficiency, magnetic line speed: 120M / min,Faster than traditional stacking system.
2. Dual stacking system ensures that the entire line does not stop. Automatically exchange system, reducing the time for unloading after stacking.
3. Protect the surface of the material.
Specification
Specification
SL Series
Coil Thickness (mm)
0.3 ~ 3.2
0.6 ~ 4.5
0.8 ~ 6.0
Coil Width (mm)
1300 / 1600 / 2000
Coil Weight (ton)
15 / 20 / 25 / 30
Photo Gallery

Videos

Press Blanking Line

630tons ShungDar Auto Servo Blanking Line

800 tons automotive press blankig line

ecatalog Download

---
Press Release
Mach-Tool 2019

International Tool Machine Show is the most influential industrial fairs in Eastern Europe. It's one of the most important exhibitions in the country.

Read More

MSV Brno ITM 2019

The most well-known industrial exhibition in Europe. More than 70% of visitor affected investment decisions, shows that with high professional.

Read More