Automatic Quick Mold Change Cart - Double Stations Cart
CAR2
Mold Exchange Cart For Press, Die and Mold Change Cart, Double stations Die / Mold Cart System, Dual Stations Mold Change Handling Equipment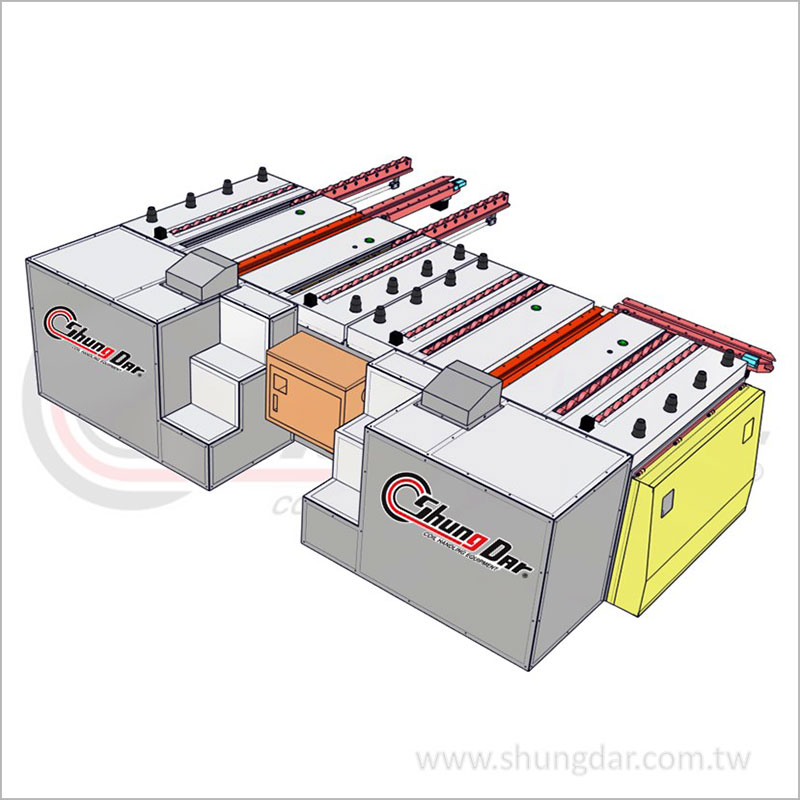 Shung Dar - Quick Mold Change Cart is also called die cart, After the used mold is pulled out and placed in the mold to be used, the die cart returns to the original position. The double-stations cart can load two molds and exchange in the fastest time, saving the punching standby time and meeting the need to change the mold frequently during production.

Customized design for different punch specifications and operating systems. Application industries such as automobile sheet metal, automobile and motorcycle components, large household appliances, Electronic products (mobile phones, laptops) and other stamping forming production.

Die/mold change cart moves around the track to complete the changing operations, cart positioning, pusher pull mold out of press to the cart and pusher push mold into press. There must be enough space for the mold to move to the left or right sides of the punching machine. The mold loading direction can be main side or the lateral of the press. The system can be used for mold changing operations such as injection molding machines, punch presses and hydraulic presses.

The mold exchange cart can be planned to be fixed or telescopic according to the customer's local requirements; the advantage of the fixed relay station is that the traditional mechanical principle is adopted to effectively reduce the occurrence of the mold exchange cart; the telescopic relay station can greatly increase the punch space usage, and at the same time It also reduces the space occupied by the relay station.
Features
1. Suitable for production types with high mold exchange frequency.
2. Shorten the mold exchange time and increase the production efficiency.
3. Labor saving and time saving, fast and accurate changeover.
4. Lower budget and safety working enviorment.
5. Production line intelligent management.
Specification
Specification
Mold / Die Exchange Cart
Model
CAR2-1880-5T
CAR2-2210-10T
Size of Mold Template L x W (mm)
1800 x 800
2200 x 1000
Mold Weight x Qty (kgs x pcs)
5,000 x 2
10,000 x 2
Mold Pusher
AC Motor with Inverter / Manual
Travelling Speed (m/min)
5
Cart Position Type
Hydraulic / Fixed
** It can be customized according to customer's requirement.
Photo Gallery

Videos

Shung Dar Quick Mold Change Cart System for Press

ecatalog Download

---
Press Release
Mach-Tool 2019

International Tool Machine Show is the most influential industrial fairs in Eastern Europe. It's one of the most important exhibitions in the country.

Read More

MSV Brno ITM 2019

The most well-known industrial exhibition in Europe. More than 70% of visitor affected investment decisions, shows that with high professional.

Read More