Precision Coil / Stock Straightneer (0.3 - 2.0mm)
SLB
Precision Metal Sheet Straightener, Precision Steel Coil Tension Leveler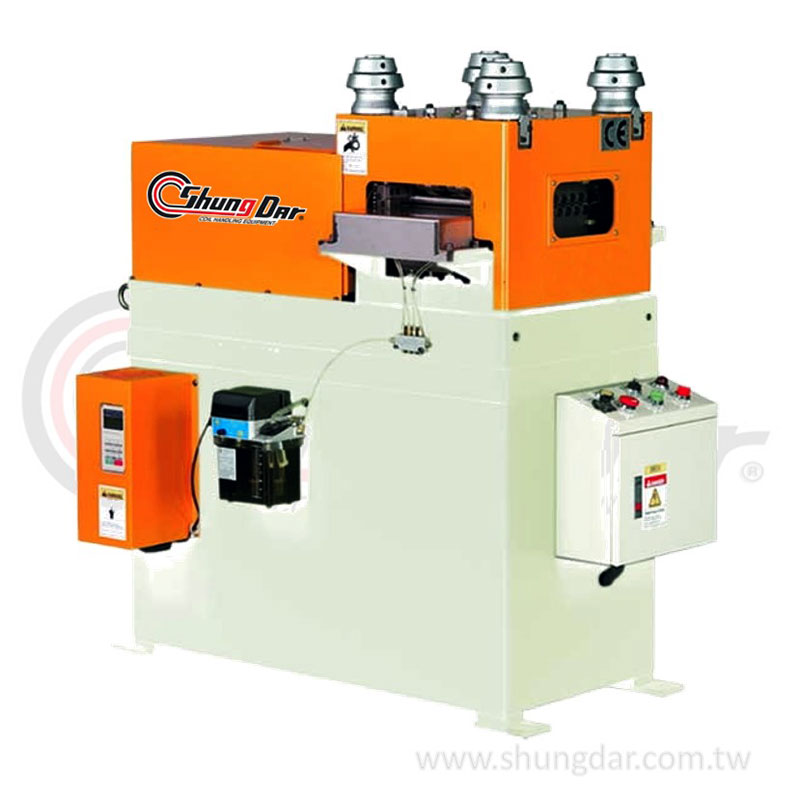 Shungdar industry's precision leveling SLB series, the advantage of precision leveling with high-strength and pieces of roll, which can be used for secondary leveling of parts after stamping, and is the machine used to level the various work pieces again; high performance leveling capability and use frequency converter to adjust speed.

Function: The material of the coil steel is put into the precision leveling for re-leveling function, and the leveling effect of the material of the coil is raised to the highest.

The operation panel is HMI and PLC control, which can memorize the parameters of each module for easy operation.

SLB series is economic type of precision leveling, which the thickness is up to 2mm; the roller drive mode is by gear box with joint, the speed adjustment will be use by inverter.
Specification
Model
SLB Series
Max. Coil Width (mm)
200
300
400
Coil Thickness (mm)
0.3 - 2.0
Straightening Roll (pcs)
21
Straightening Roll Drive
Gear-Box
Straightening Motor
AC motor
Speed Adjustable
Inverter
Feed Speed (M/min)
16
* Note: Right of modification reserved.
Application Scope
Coil Width: 200 / 300 / 400 / 500 / 600 mm
Coil Thicknesst: 0.3 - 2.0 mm
Straightener Roller: 21 pcs
Photo Gallery

ecatalog Download

---
Press Release
Mach-Tool 2019

International Tool Machine Show is the most influential industrial fairs in Eastern Europe. It's one of the most important exhibitions in the country.

Read More

MSV Brno ITM 2019

The most well-known industrial exhibition in Europe. More than 70% of visitor affected investment decisions, shows that with high professional.

Read More