Metal Coil Tension Leveling Rotary Shear Line
SR
Steel Plate Rotary Shear Line, High Speed Steel Coil Leveling Cutting Line, High-Speed Flying Shear Cutting Production Line, Stretch Leveling Cut to Length Line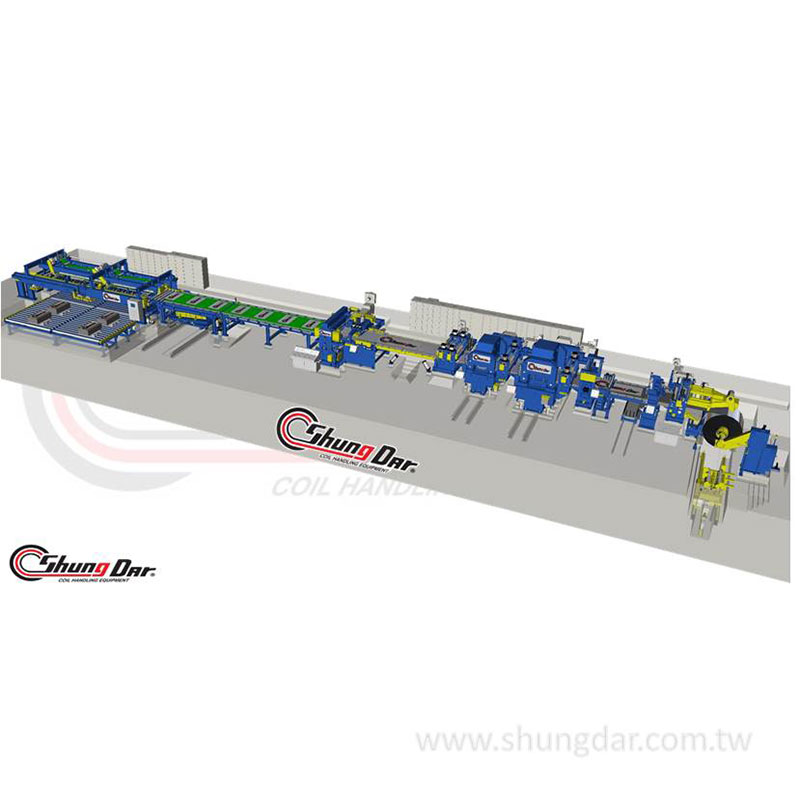 Shungdar Industrial Co., Ltd. Latest development high speed rotary shear line, which is commonly used in mass coil service center production, showcasing the technology of high efficiency and high precision of automation production.

The compact line includes the functions of auto coil loading, auto coil threading, and leveling auto adjustment, cutting the rectangular, trapezoid and parallelogram sheet shapes, as well as tracking. The system adopts the uninterrupted cutting method, and omits some devices such as feed rolls which may indent the steel sheets, and arc guide device which may collide and leaves marks on the steel sheet.

Compared with traditional shearing lines, Shungdar rotary shear line utilizes an arithmetic unit, which are supplied with the cutting length and the average feed rate of the sheet stock, to calculate a synchronous speed and a synchronization length, and makes the feeder to feed the sheet stock to a rotary shear for fly cutting by its rotating cutting edges.

By using servo motor, the shears can continuously cut and stack steel sheets at a maximum speed of 90M per minute. This feature will be applied to realize the increase of productivity, reduce of production time and cost.

And with the adoption of dual leveling system, integrated with tension levelling unit, enable the leveling plasticity up to 95%, creating high precision leveling for better usage of the processed blanks.
Photo Gallery

Videos

Coil Steel Rotary Shear Line

ecatalog Download

---
Press Release
Mach-Tool 2019

International Tool Machine Show is the most influential industrial fairs in Eastern Europe. It's one of the most important exhibitions in the country.

Read More

MSV Brno ITM 2019

The most well-known industrial exhibition in Europe. More than 70% of visitor affected investment decisions, shows that with high professional.

Read More