3 in 1 NC Servo Feeder, Straightener & Uncoiler
SNR6E
3 in 1 combined Decoiler Dtraightener Feeder for stamping metal parts, Sheet automatic 3 in 1 Decoiler and Straightener, 3 in 1 Coil Processing Unit, Servo Coil Handling Straightener Feeder 3 in 1 Machine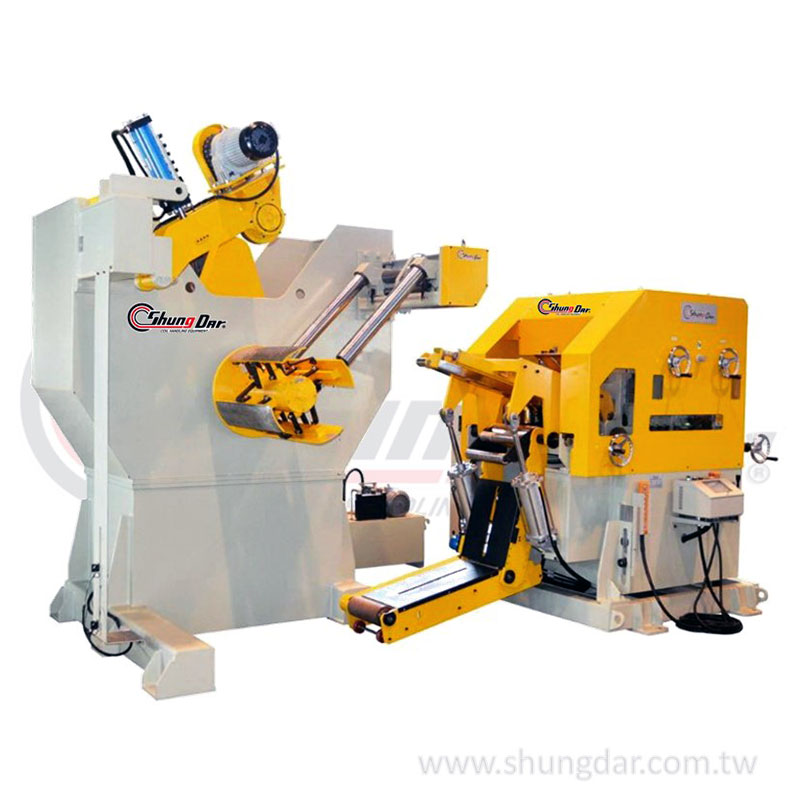 Shungdar - 3 in 1 uncoiler & NC straightener feeder SNR6E series which the coil thickness from 0.6 ~ 6.0mm and the range of width is 400 ~ 1300 mm and coil weight is for 5 ~ 10 tons. Application finished products including rack punching, break disc and office equipment...etc.

3 in 1 model is made by uncoiler, straightener and feeder; the overall structure is compact, shortening the factory of the area. All feeding parameter setting and control are concentrated in one operation screen and manual box, stable performance, accurate feeding, and high leveling, saving manpower space, high-automatic feeding equipment around the press machine.

The mandrel expansion of SNR6E series is operate by hydraulic, coil O.D up to 1500 mm, hydraulic operated hold down arm strongly press the coil with motorized wheel, one set of coil keeper to assist feeding smoothly. Uncoiler of SNR6E is driven by motor with reducer, uncoiler feeding with driver become a loop area and into straightener, loop control by photo sensor.

The straightener motor is operating by servo motor; it will add the debender at the edge of the straightener which effectively breaks the material stress to enter the straightening machine smoothly.
Straightener roll can adjust the roller gap through the manual worm; feeding roll stabilizes the material into the stamping process. Feeding height can be option by motorized due to the large loading of the medium thick material.
Application Scope
Max. Coil Width: 300 / 400 / 500 / 600 / 800 mm
Coil Thickness: 1.0 - 6.0 mm
Coil Weigh: 5 / 7 / 10 ton
Photo Gallery

Videos

SNR6E-Compact feedline with double ended reel

ecatalog Download

---
Press Release
Mach-Tool 2019

International Tool Machine Show is the most influential industrial fairs in Eastern Europe. It's one of the most important exhibitions in the country.

Read More

MSV Brno ITM 2019

The most well-known industrial exhibition in Europe. More than 70% of visitor affected investment decisions, shows that with high professional.

Read More